Are you having problems with your pond?
Keeping your pond clear, clean, and healthy can be a challenging undertaking. Scale, hair algae, and water clarity issues often plague the pond owner. And, if you add koi, it can be even more challenging. Fortunately, ECOsmarte provides a solution to these common problems with its unique electro-chemical water treatment system.
​
The ECOsmarte pond package will reduce or eliminate hair algae build up on the rocks, boulders, and edges of your pond. It does this by maintaining low levels of ionic copper in the water.
Scale is controlled by converting Calcium Carbonate to Calcium Bi-carbonate. This will save on pumps, and other plumbing by protecting your equipment from scale.
The natural oxygen and oxidation of the titanium electrodes in the ECOsmarte reaction chamber expands and oxidizes ammonia (produced by the fish), and other organics in the water.
Improve the quality of your water by:
​
Optimizing the pH

Removing industrial and municipal contaminants

Removing microbial pathogens

Reducing the iron concentration

Increasing the dissolved oxygen

Reducing organic by products

Eliminating scale

An increase in ORP

(Oxidizing Reduction Potential see chemistry page).

Oxidizes ammonia (for koi ponds).
"Every Pond can be fixed" No scale, no string algae, automated pH control, superior water clarity, chemical free.
North American Award winning koi pond by Gary Diaz of Sacramento California turned to ECOsmarte's
Koi Package to achieve superior water quality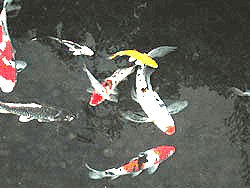 Electro-chemical oxidation increases the level of dissolved oxygen (DO), raises the redox potential, especially beneficial for fish, and minimizes scaling by converting carbonate hardness to bi-carbonate hardness (For further information see Electro-chemical Oxidation)
Electro-chemical sanitation eliminates microbes & including algae, bacteria, fungi, mold and protozoa in systems w/o fish via the residual Cu concentration (For further information see Electro-chemical Sanitation)
CO2 injection controls pH of source water w/o the use of acid. This is the preferred method used in world class aquariums. (For further information see CO2 Water Treatment).
​
Forget about chemicals, algicides, acid, and cloudy water. The ECOsmarte pond package will make make having a beautiful pond NO PROBLEM...
Indianapolis Home Show - Natural Pool with Koi fish
David Willis of DRW Construction in Indianapolis showcased this beautiful chemical-free natural swimming pond complete with KOI Goldfish and Ecosmarte's sterilized, recycled glass filtration.
This configuration can be powered by the sun using Ecosmarte's Grid Tie Solar making it eligible for 30 per cent Federal Tax credit (up to $15,000), Public Utility Rebate in many states($8000 to $20,000 payable to the buyer upfront ) and in some cities like Austin Texas or the City of Riverside, CA the project will not only be powered by the sun, it will operate on one half the water, using ECOsmarte's Glass-Pack (recycled glass filter medium) in the filter platform and be 80 per cent subsidized at a minimum.
The bonus is the entire house can run "grid neutral", virtually eliminating the electric bill, and ensuring renewable, clean energy for 25 years under the solar panel warranty. Your utility furnishes a reverse spin meter for nighttime use.
ECOsmarte's NEXT GEN uses no regular chemical, operates on 1/2 the water and powers itself and the pond with the power of the sun.
​
Let us know about your water quality issues...